I am a licensed and insured USA Cycling Mechanic.  So whether you are racing in a stage race or just racing your kids to the corner, get real professional attention for your bike from Steve the Bike Guy. USA Cycling only issues a maximum of 60 new race mechanics licenses per year following a selective training program in Colorado Springs.
Steve the Bike Guy offers service inside the Velo Studio in Sherborn, MA, and on select days comes to your location for tune-ups, service, parts installation, and more.  Pick-Up and drop-off service also available. Due to limited storage space, please call ahead since service often requires an appointment during busy seasons.
TUNE-UP PACKAGES
Please note that bikes with severe damage, seized parts, rust, excessive dirt/mud, tandems, some triathlon bikes, internal cables & hidden brakes, or those just wanting extra attention may incur added costs.   
Bronze Tune-up: $55
This basic tune-up is designed to have shifting and brakes adjusted, fix annoying and perhaps dangerous problems, and other minor issues to get you rolling again.  It also assures newer bikes are running their best.   If you are just looking for an adjustment or two then a-la-carte services are listed below.
The Bronze Tune-up can include:
Check & adjust front and rear derailleurs
Check & adjust loose headset
Check an adjust brakes and pads
Check and adjust tires, pressure, and wheel skewers
Safety check of nuts and bolts
Some lubrication
In addition to the Bronze level there are some simpler options usually designed for kids bikes or single speeds.
 Silver (Ride Refreshed) Tune-up: $85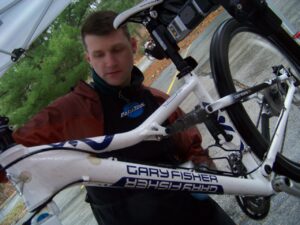 This is the most popular package and really gets bikes feeling and riding great again.  It is fairly comprehensive tune-up which typically includes:
Check & adjust front and rear derailleurs; clean pulleys
Check & adjust brakes and pads
Check & adjust bottom bracket cups/crank bolts
Check & adjust loose wheel axles
Lubricate brake and derailleur cables
Clean and lubricate derailleurs, pulleys, brakes, levers, cables, and pivot points
Chain cleaning, wear check, and link lubrication (no extra charge for new chain installation if required)
On-wheel cleaning of cassette/freewheel
Safety check of nuts and bolts such as stem and crankset (torque wrench is used on many sensitive parts as necessary)
Clean rims and/or disc rotors, remove particles in brake pads, and sand glazing from brakes as applicable
Check tires for wear, rotation direction, and inflate to proper pressure (replace if necessary)
Minor wheel truing on bike
Grease or carbon paste seatpost to prevent seizing
Wipe down frame and wheels
Gold Tune-Up: $120
The Gold Tune-up includes all the items from Silver, plus the following:
Remove crank/bottom bracket to clean out, re-grease seals, and check for moisture and bearing problems
Ultrasonic cleaning of cassette, plus chain if quick-link equipped (non-quick link chains for minor extra charge)
Remove derailleur pulleys for removal of dirt and inside cleaning of bushings or bearings
More detailed and intricate parts cleaning
Plus I often include many other issues I commonly find
Super Overhaul: $195
The Team Overhaul is basically a complete overhaul of the bike that will pamper and look at all the details, or for those bikes with lots of issues that need attending to.  This includes all the service and work above, plus includes the replacement of brake and derailleur cables/housing and handlebar tape as applicable.  Cables/housing included in the price with premium options available for varying charges.  Handlebar tape extra with color and brand options available.
Tune-Up For Kids Bikes / Adult Single Speed Bike Tune-Up: $35-$45
This tune-up is a check and adjust for simple single speed youth bikes, adult single speed bikes, and some youth multi-speed bikes.
Chain cleaning and lubrication
Brake Adjustment
Wheel True Check and minor adjustment
Training wheel check and adjustment if equipped
Overall safety inspection, check for loose accessories/bolts, set tire pressure
Individual Services  (Labor Only)
These are typical costs for services but may vary based on equipment.
Tires and Wheels
Install tire and/or tube – $9
Minor wheel true on bike – $9
Major wheel true on stand – $27
Minor hub adjust Front – $9 /  Rear $15
Glue Tubular Tires – Variable based on equipment
Mavic Ksyrium Freehub clean and relube – $18 (Should be done every ~1500  miles or once per year)
Cassette removal and cleaning (plus remove plastic guard if desired) – $15
Drivetrain
Adjust bottom bracket – $14
Install or overhaul bottom bracket – $20
Install chain or change length – $9
Crank removal and cleaning – $18 (+$8 to install new chainrings)
Adjust front or rear derailleur – $16
Install derailleur cable and adjust – $18-$27 (includes stainless steel cable. Price variable based on bike type with internal cables sometimes higher)
Remove and install new shifters – $20-$40 (can vary based on type)
Remove and install new freewheel or cassette – $9
Ultrasonic cassette cleaning – $15
Brakes
Install complete assembly – $27
Adjust brake assembly – $9-$18
Install new brake pads – $4 to $18 based on bike type
Install new brake cable (per brake) – $12 (includes standard cable)
Install disc brake pads – $10
Install disc brakes – $36 (typical – can vary based on brake style and frame)
Steering
Stem install /swap – $9 removable faceplate / $27 other
Adjust headset – $9
Headset disassembly and cleaning – $18-$27
Install new headset – $27
Cut fork steerer tube – $18
Help – I Need My Bike Now!
Same Day Service Turnaround – $25
Did you realize you need to pickup your bike at 10:00pm and can't wait until business hours. Call or text 508-251-9737 to hopefully reach me. $40 fee for after-hours special pickup if I can make it.
Other Services
I can also help with a range of additional related services:
Trailer and trail-a-bike sales and installation
Bike computer or accessory sales and installation
Bike sizing and purchasing advice
Helmet and equipment sales and recommendations
Almost anything else bike related – just ask.